For Valentine's Day, Mike and I tried a local restaurant downtown called
Croce's
. All of our food was EXCELLENT, but given my blog name, I was especially drawn to the salad. I had a Warm Spinach Salad with Vanilla Bean Vinaigrette. It was SO GOOD. I decided I needed to figure out how to make it, and in my search for a vanilla bean dressing, I FOUND
CROCE'S RECIPE
!!!! I am SO excited to make this, and I wanted to share it with you all!!!!
Warm Spinach Salad with Sweet Vanilla Bean Vinaigrette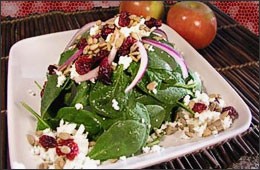 Spinach salads have been popular for many years, and are featured on the menus of countless restaurants. A specially created rendition of this perennial favorite is served at Croce's. With its fresh vanilla bean dressing and poached figs, this version offers an entirely new direction and flavor profile, which pairs well with a wide variety of fine wines, appetizers, and entrees.
| | | | |
| --- | --- | --- | --- |
| Serves: | 6 | Vegetarian: | Yes |
| Preparation Time: | 00:30 | Cuisine: | American |
| Difficulty: | Moderate | Meal Type: | Dinner |
| Main Ingredient: | spinach | Dish Type: | Salad |
| Main Cooking Method: | Simmer | Season/Occasion: | Any Occasion |
Warm Spinach Salad
Ingredients
1 1/2 lb. baby spinach
6 Mandarin oranges, carefully divided into wedges
9 fl. oz. sweet vanilla bean vinaigrette (see recipe)
24 seedless red grapes
6 oz. walnuts
2 Red Delicious apples, quartered
15 poached figs, halved (see recipe)
12 oz. Stilton blue cheese, crumbled
Directions
Slice each apple quarter 4 times lengthwise, taking care to only slice 4/5 the way through each time. Grasp apple by uncut end and gently fan out slices. In a large mixing bowl, toss spinach with warm vanilla bean vinaigrette (see recipe). Prepare 6 plates for serving. Place spinach in center of each plate, top with a fanned apple quarter. Place 5 mandarin-orange wedges evenly at 5 points around the plate's rim. Do the same with 5 poached fig halves (see recipe) so that figs and oranges alternate around plate. Top spinach with grapes and walnuts. Garnish with Stilton cheese crumbles on top and around salad. Serve immediately.
Sweet Vanilla Bean Vinaigrette
Ingredients
1/2 lb. unsalted butter
2 1/2 oz. brown sugar
2 oz. honey
1 vanilla bean
1 tsp. vanilla extract
2 1/2 oz. olive oil
Directions
In a saucepan melt butter over medium-low heat and stir in brown sugar and honey. Split vanilla bean in half and core (use the pulp only). Transfer butter mixture and vanilla pulp to a blender. Add vanilla extract and pulse for 2 minutes. Slowly add olive oil, pulsing to incorporate. Return to saucepan and keep over low heat until ready to use.
Poached Figs
Ingredients
1/4 C. white wine
1 Tbsp. sherry wine
1/4 C. water
1/2 lb. dried figs
Directions
Bring all liquids to a boil, Reduce heat and add the figs, simmer lightly until softened and cooked through. Discard liquid; reserve figs. Let cool and cut in halves before serving.
(Mike wasn't a huge fig fan, so I'll probably skip that, but they are pretty tasty with the salad!)